We're thrilled to offer you a fantastic range of free report card templates, specifically designed to make life easier for homeschool, preschool, and high-school teachers. We know how challenging it can be to create report cards from scratch, and that's why we've designed our templates to be visually appealing and easy to use. With organized sections for grades, attendance, and teacher comments, our templates are guaranteed to make your life simpler. And the best part? You can print them on standard paper sizes – perfect for printing at home or taking to your local print shop!
Parents and educators alike can save time and effort with our user-friendly templates. Download the template, open it in MS Word, and customize it to your exact needs. It's that simple! With our report card templates, you'll have a professional-looking report card in no time!
What is a report card?
This is an educational report sent to parents by the school or college teachers. It provides parents with information about their children's educational performance and behavior by the teacher or institution. This is indeed very important for parents as it allows them to monitor their child's academic performance.
When is a report issued to the parents?
This is usually issued to parents once or twice a year by the school or college. Once in the middle of the academic year, also known as the mid-term result, and once at the end of the year, which is usually called the annual result. But in some institutions, children's report cards are sent to their parents on a monthly basis.
The main reason for this is to keep parents regularly informed about their children's academic performance and behavior. Based on this report, parents can know about the good or bad performance of their children, and in the same context, they can pay more attention to their child's weak side. The main purpose of all these processes is to further improve the child's academic, character, and intellectual performance.
How is grading done in a report?
Each report uses grading to measure children's performance. In some institutions, this is done in the form of grading numbers from 1 to 5 or 10. From this point of view, a child who gets 1st grade means that he is the best. A child who gets 2nd grade means that he is below grade 1. Similarly, a student who gets 10 grades is considered to be the worst student.
In contrast, in some schools, this grading is done in the form of alphabets (levels). Such as A +, A, B +, B, C, D. Percentage grading system is also a common method of reporting student performance. In this method, instead of stating the numbering or level, the performance of the student is expressed as a percentage. The better a child gets a good percentage of his / her result, the more capable and good he/she is considered.
Basic components?
Student information.
The most basic thing in an academic report is student information. Such as the student's name, his / her class or class grade, his / her father's or guardian's name and phone number or email, and his / her home address.
Description of subjects and their results.
This is the first important thing that is the most focused part of every result card. It contains details of the subjects taught to the student and the marks obtained in it are written with each subject. Total numbers are also written with each subject so that parents and students can easily find out how many marks they have got out of the total numbers. The percentage of marks obtained from it is also written with each subject. This is part of the report in which all the details of the student's academic performance are described.
Teacher's comments.
The most important part of each report card is the comments of the teacher written on it. This special part of a student's result gives parents a summary of their child's academic and intellectual performance. In these comments, the teacher describes in a few words the role of his student, his attitude, his thoughts, his academic performance, and the personality of the student which is very important not only for the student but also for his parents.
Template for Primary School Student
Watch the video of Making of this template
Student Report Card Template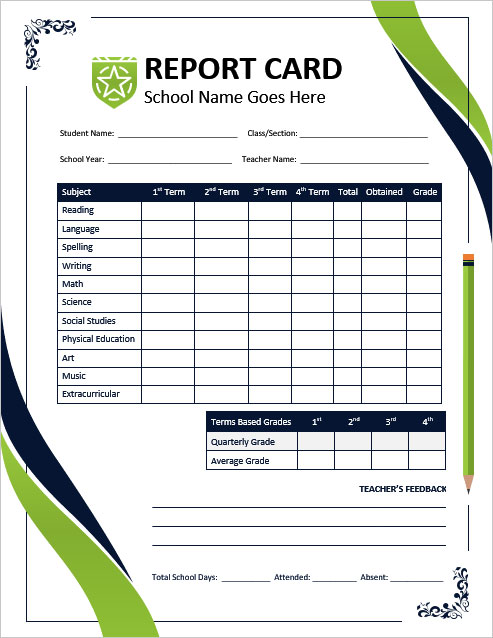 High School Format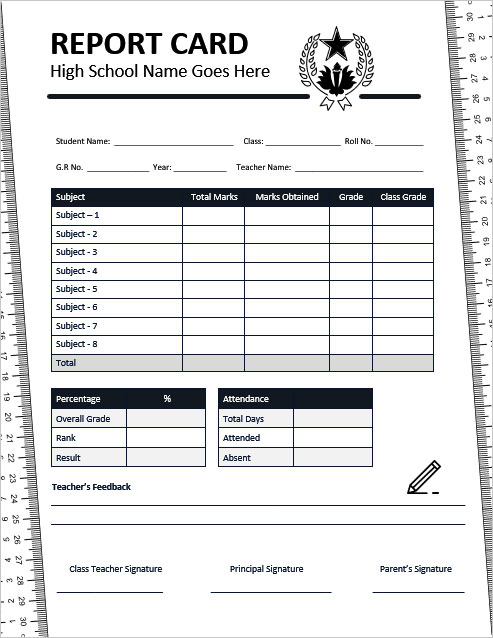 ---
Video Tutorial:
---
Benefits of Using MS Word Report Card Templates
These templates for report cards are really handy. They're made in MS Word, so you can easily edit them to fit your needs.
If you're short on time, the templates can save you a lot of effort. They're already designed with sections for important information like grades, attendance, and teacher comments. All you need to do is input the data and you're done!
And if you need to make changes, no problem. You can add or modify sections to make the report card suit your specific needs. So whether you're a homeschool parent or a high school teacher, these templates can be customized to work for you.
Plus, they're really easy to use. All you have to do is download the template, open it in MS Word, and start editing.
But if you're not familiar with MS Word or creating report cards, don't worry. There are video tutorials available that will guide you through the process step-by-step. They'll show you how to customize the templates and provide helpful tips along the way.
Overall, these report card templates are a great tool for parents, teachers, and educators. They're customizable, easy to use, and can save you a lot of time and effort.
How Report Cards Help Track Progress and Identify Areas of Improvement
Report cards are vital for every student. They help parents track academic progress, identify areas for improvement, and communicate with teachers. Here's why:
Track progress: See how your child has improved over time.
Identify strengths and weaknesses: Learn where your child excels and where they need support.
Encourage communication: Work with teachers to find solutions for your child's struggles.
Prepare for the future: Use report cards to guide future choices like college majors or career paths.
In summary, report cards are essential for parents to monitor their child's academic journey. With them, you can track progress, identify strengths and weaknesses, encourage communication, and prepare for the future.
Understanding Your Child's Report Card
Are you ever left scratching your head when it comes to understanding your child's report card? Well, here are some tips that are sure to come in handy!
First and foremost, make sure you read the report card thoroughly. Pay attention to each subject's corresponding grades and any comments or notes from the teacher.
If you have any doubts about the grades or comments, don't be afraid to ask your child's teacher for clarification. Remember, teachers are there to help and can provide valuable insight into your child's academic progress.
When communicating with your child's teacher, be open and honest about your concerns. Ask them questions about how you can support your child at home and work together to create an improvement plan.
Remember that report cards are just one part of your child's academic journey. Use the information provided to identify areas where your child is excelling and where they may need extra support.
Encourage your child to take responsibility for their academic progress and set achievable goals. Celebrate their achievements and help them overcome any obstacles they may face.
Lastly, always show your child that you are proud of them and support them no matter what. Your love and encouragement can make all the difference in helping your child reach their full potential.
I hope these tips will help you gain a better understanding of your child's report card and how you can support them in their academic journey.
Simple Ways to Customize Your Report Card Template
if you are a homeschool parent or preschool teacher and want to create a custom report card template that's just perfect for your child or class? Well, it's easier than you think!
Think about the age and grade level of your students – this will help you decide on the level of detail and visuals needed in the template.
Consider your school or program's specific requirements – attendance records or extracurricular activities, anyone? Make sure to modify the template accordingly!
Let your creativity fly when designing your report card template – use colors, fonts, and graphics to make it visually engaging for students and parents alike.
Not sure where to start? Don't worry! We have already designed ready-made templates that are easily customizable. These are fully custom report card templates that you can download for FREE and use the way you want. Plus, you can always ask other educators or homeschooling parents for advice and inspiration.
To sum it up, customizing report card templates can be a super easy and effective way to meet the unique needs of your students and school. From preschool to high school, there's no limit to the options and resources available to help you create a template that's just perfect!