Best Free Report Card Templates for MS Word
On this Page – Designed in the finest styles, these report card templates are specifically designed to give school students their reports. These are specially designed to be very easy to print for a letter or A4 paper size. You can easily use them by opening them in MS Word and modifying them according to your needs.
What is a report card?
This is an educational report sent to parents by the school or college teachers. It provides parents with information about their children's educational performance and behavior by the teacher or institution. This is indeed very important for parents as it allows them to monitor their child's academic performance.
When a report issued to the parents?
This is usually issued to parents once or twice a year by the school or college. Once in the middle of the academic year, also known as the mid-term result, and once at the end of the year, which is usually called the annual result. But in some institutions, children's report cards are sent to their parents on a monthly basis.
The main reason for this is to keep parents regularly informed about their children's academic performance and behavior. Based on this report, parents can know about the good or bad performance of their children and in the same context, they can pay more attention to their child's weak side. The main purpose of all these processes is to further improve the child's academic, character, and intellectual performance.
How is grading done in a report?
Each report uses grading to measure children's performance. In some institutions, this is done in the form of grading numbers from 1 to 5 or 10. From this point of view, a child who gets 1st grade means that he is the best. A child who gets 2nd grade means that he is below grade 1. Similarly, a student who gets 10 grades is considered to be the worst student.
In contrast, in some schools, this grading is done in the form of alphabets (levels). Such as A +, A, B +, B, C, D. Percentage grading system is also a common method of reporting student performance. In this method, instead of stating the numbering or level, the performance of the student is expressed as a percentage. The better a child gets a good percentage of his / her result, the more capable and good he/she is considered.
Basic components?
Student information.
The most basic thing in an academic report is student information. Such as the student's name, his / her class or class grade, his / her father's or guardian's name and phone number or email, and his / her home address.


Description of subjects and their results.
This is the first important thing that is the most focused part of every result card. It contains details of the subjects taught to the student and the marks obtained in it are written with each subject. Total numbers are also written with each subject so that parents and students can easily find out how many marks they have got out of the total numbers. The percentage of marks obtained from it is also written with each subject. This is the part of the report on which all the details of the student's academic performance are described.


Teacher?s comments.
The most important part of each report card is the comments of the teacher written on it. This special part of a student result that gives parents a summary of their child's academic and intellectual performance. In these comments, the teacher describes in a few words the role of his student, his attitude, his thoughts, his academic performance, and the personality of the student which is very important not only for the student but also for his parents.
Template for Primary School Student
Watch the video of Making of this template
Student Report Card Template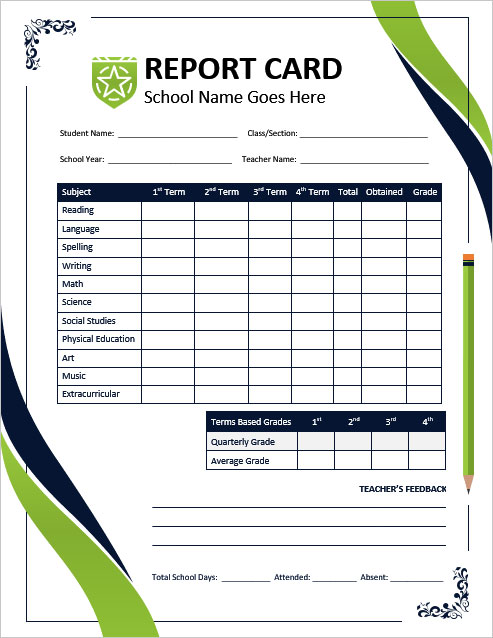 High School Format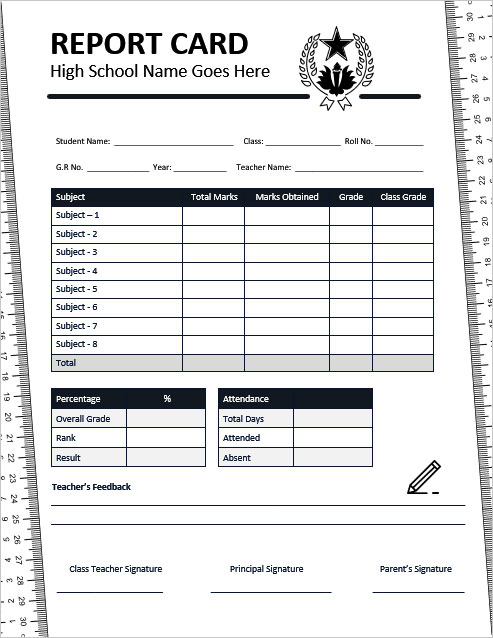 ---
---