9+ Best FREE Wedding Place Card Templates – Editable & Printable
When you invite people to your weddings, they show up with a number of unseen and unintentional expectations from the host. After the guests have reached the venue, they expect the warmest of welcome, lots of greetings, and a pleasant atmosphere. What they assume next is that you help them get a nice, comfortable seating position that is fairly positioned from the stage.
Just, for a moment, imagine two scenarios; one: every guest went to whichever seat they could get their hands on, with a few of them having to share a table with their 'not-so-liked' relatives, and hating the entire event. Two: a guest couldn't get a seat at all, and the hosts are running here and there to the event planners and venue managers asking them for extra chairs! Chaotic, no?!
For a fair assignment of seating, wedding place cards are provided. These are stationary pieces that are put on every table, or on one common table telling guests which seat do belong to.
Download Wedding Place Card Templates in MS Word Format
On this page, you can download wedding place card templates, designed in Microsoft Word in different layouts. These include folded, verticle, and horizontal styles. Each of these designs is fully editable, and formatted with high-quality vector graphics that make it highly printable.
Design # 1 – Horizontal Style
Design # 2
Design # 3 – Folded Style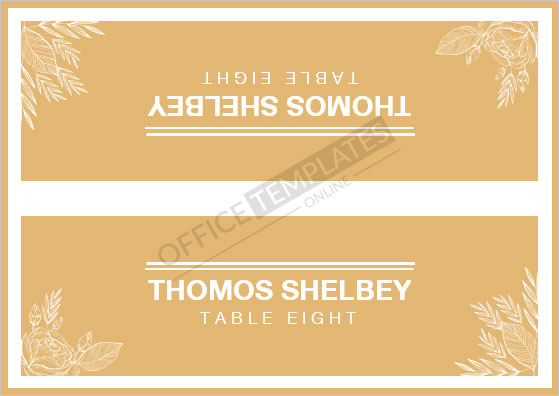 Design # 4
Design # 5 – Vertical Style
Design # 6
Design # 7
Design # 8 – Horizontal
Design # 9
Why are wedding place cards helpful?
You should pay close heed to the itsy-bitsy details at your wedding. After all, it is not just about the "I do" and the union of two souls, rather the hosts need to put their heart and mind into every single aspect. From the décor to the seating, food, and warm reception. People are likely to notice more things about your event than you like informal judges out there.
Wedding place cards are a great way of avoiding discomfort, ensuring order, and exhibiting your sensitivity to details. Are they absolutely essential? No! Are they a good addition to improving your management? Absolutely!
What should one add to the wedding place card?
Place cards do not have to have a robotic touch or give a vibe that you're attending your boring office meeting where you are expected to sit at a specific place. In addition to the table number and guest name, these can be made enjoyable by adding sweet messages, or funny lines.
What unique wedding cards can one create?
You can choose various templates that we have to create your own wedding place cards. In addition, we are listing unique ideas on how you can make these memorable:
Conventional printable cardboard or paper ones to suspend or simply place
Carved wooden ones to put on plates
Ones wrapped around napkins
Laser cut or acrylic centerpieces
Metallic foiled scrolls
Sealed notes in an old-school way
Metallic holdable place cards
Key-shaped, floral, or uniquely shaped cards
Cards that can be scanned to reach a link
Handwritten ones, if you live for heartfelt notes etc.
How can wedding place cards be aligned with the theme?
You can customize your wedding place cards according to the theme you have for your big day, such as
Vintage
Minimalistic
Boho
Rustic
Wizardly
Technology-based
Sports-related, for example, baseball
Harry potter or game of thrones themed
Tropical
Lego-themed
and of course, the all-time favorite, floral!
Wedding place cards are, therefore, a wonderful way of adding statement and class to your wedding day once you put your energy into the right place.
Helpful Video Tutorial
Watch the video below to learn How to Design a Table Reservation Name/Place Card In MS Word