24+ Free Day-to-Day Use Resume Cover Letter Templates
What is a Cover Letter?
A cover letter is an important document that accompanies a job application or resumes while searching for a job. It helps provide additional information and related skills and experiences of the prospective candidate to the employer. The cover is used by many employers as a method of screening the candidates who have applied for the jobs and short-list applicants for interviews. The requirement for a cover letter is mostly mentioned in the job advertisement.
Here are 24 Cover Letters for Different Jobs/Disciplines
Every function or department in a business organization has different official documentation. The same is true for the human resource department. It has a lot of supporting documents that it has to prepare as part of its standard operating procedures. One such document that is frequently used in the HR department and jargon is the cover letter.
This page contains 24 different types of templates and formats that can help you draft your cover letter for the job you are applying for. All you need to do is go through this page and you will get the template of your choice. You can then make the necessary modifications to it and get the document that you want. All of these templates are designed and created in MS Word.
If you are required to prepare a cover letter you can download any of these templates below that is the best fit with your job requirements.
These are created specially for the following,
#1 – Accountant Cover Letter
This cover is designed especially for people applying for an accountant job.
All the copy text is already part of this template. All you have to do is to download this and change the place-holder text with yours.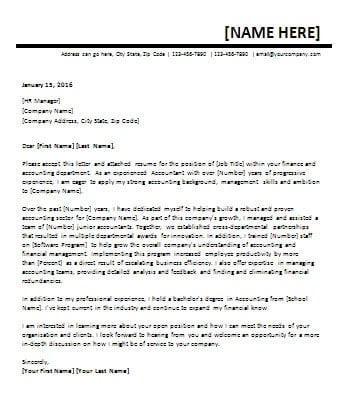 #2 – Administrative Assistant Cover
People related to the administration or board/governing body of a business or organization can use this cover to apply for such a job. The simple layout of this template makes it more appealing.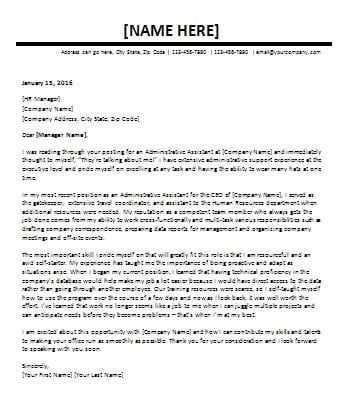 #3 – Certified Nursing Assistant Cover
Specially designed for the nursing department, this cover is going to be the first choice of someone applying for a nursing assistant job where 'to be certified' is marked as required in the job requirement.
#4 – Student Intern
Fresh students can use this cover to apply for a job or internship. All they have to do is to change particular information related to them and the company they are applying to. Everything else is all set in already.
#5 – Changing Career Cover Letter
If you are changing your career and applying for a job, then this cover letter is going to be very useful for you. You can use this for any kind of job.
#6 – Customer Service Representative
People related to the customer services department can use this cover while applying for a job. A very well and professionally written letter copy makes it distinct from any other sample letter around the web.
#7 – Software Engineer
This is an awesome cover letter for Software Engineers. Just like their job, it is written very technically keeping in mind all the technicality of this job. This will surely save a lot of your time to do it manually by yourself.
#8 – Dental Assistant
This one is designed especially for the candidates applying for a dental assistant, operator, or any kind of other job where assistance is needed for treating dental auxiliary. Just like the wording, the layout is also very attractive and eye-catching.
Downlhttps://officetemplatesonline.com/download/dental-assistant-cover-letter-in-ms-word/oad
#9 – Executive Cover Letter
This one is for you if you are going to apply for an executive job. Just like the nature of the job, the letter body is written in an executive way comprising previous job experience, knowledge about the related market/business, and achievements.
#10 – Social Worker Assistant
People applying for a Social Worker assistant job can use this letter to attach along with their Resume. The copy text of this letter is awesome and written very professionally.
#11 – Experienced Cover Letter
If you already have experience in the job you are applying for, then this cover letter is going to help you a lot if you use this along with your resume.
#12 – General Cover
This general cover letter can be used for any kind of job you are applying for. This is written in a way that can be fit for any kind of job or job position.
#13 – Less Than 3 Years Experience
This template is specially created to be used if you are applying for a job where less than 3 years of experience is required.
#14 – Marketing Specialist
This cover letter is created for Marketing Specialists to be used while applying for a job come to know from a TV commercial, a classified website, or a newspaper. Download this letter, change your appropriate information and it is ready for you!
#15 – Military Transition
This cover letter is designed for Military personal who is applying for a job in the Military related to Administration, Technology, or Security Operations.
#16 – Project Manager
This is designed for a Project Manager post especially related to Information Technology having experience in Staff Training and Development. But you can amend copy text to change it according to the nature of your job.
#17 – Recent Graduate
If you have just done your graduation and applying for a job, then you are at the right spot to get a perfect cover letter for yourself. Copy text of this letter includes the skill sets you have learned while studying.
#18 – Registered Nurse
This nicely written letter is specially designed for certified nursing staff jobs. Copy text explains the skill level and experience that you can amend to match according to yours like medications, monitoring, caring, and educating patients about health-related issues.
#19 – Restaurant Manager
People applying for a Restaurant Manager can use this cover letter to send to the hiring manager along with their resume. The copy text is written to emphasize more on the following key points/skills
Operations Management
Staff Training and Development
Exceptional Service
You can update this according to yours.
#20 – Retail Sales Associate
Use this cover letter if you are applying for the post of retail sales associate. This letter is very helpful for you if you have experience of following,
Store Manager,
Point of Sale System
Store Key Holder
Cash Register System
Otherwise, you can change the text to make it best fit according to your skillset.
#21 – Returning to Workforce
This is designed especially for those people who are cut off from their job for some time because of some family, health, or other issues and getting back to work now. A beautifully written letter explains the situation very professionally.
#22 – Sales Manager
This nicely written and designed cover letter is created especially for Sales Managers to use while applying for a job. Example copy of this letter explains your previous experience, achievements, and working knowledge very professionally that you can amend to change according to your needs. The key points mentioned here are as below.
Sales Achievements
Strategic Partnerships
Team Building
#23 – Security Officer
If you are applying for a security officer job, then this is the best cover letter that you can send to the hiring authority along with your resume. This nicely written letter will give your resume a solid edge with its professionally written example text.
#24 – Teacher
This is designed for teachers. Copy text of this letter is written keeping in view an elementary school teacher but you can amend it easily to make it work for you according to your class. You can also include your background and experience related to teaching and technology.