7 High-Quality Accounting & Auditing Proposal Templates for MS Word
Introduction:
Many companies require services to take control of their financial part of the business so that they can focus properly on the main business. Accounting means to record all the transactions associated with business through comprehensive as well as systematic means. Through accounting, companies are aware of how much profit they are making and where exactly it is spent on. Moreover, the government also looks for financial data for tax reasons.
Creating an accounting proposal is a necessity and is not a piece of cake for sure. The scope includes about us after introduction, summary, proposal, your services, and the prices you offer.
Your goals included in the accounting proposal for providing services should be:
Contribute to the sustainable success of the business and keeping an eye on financial reports with a regular appraisal.
Provide efficient experience in accounting that will support the business.
Ensure sound financial advice regularly for the data.
Creating an Accounting Proposal
Services like that of accounting are mostly outsourced by companies simply because they do not have enough time to make space for the accounting dept. they can also save more when hiring such services from a third party. Here are a few important points you must consider when writing an accounting proposal.
1. What is a proposal?
You must have proper knowledge of what a proposal is before you head off to start writing one. Read different materials and do thorough research to understand the purpose of the proposal fully. This is key to create effective and high-quality proposals that are likely to get selected.
2. Gather samples and templates:
You can use various templates and samples as study material to get a good idea. Use them as a reference for what you are going to write. Any sample for this job would do but to study in detail, choose the accounting ones, and study the writing style of different people. capital investment proposal samples, business proposals, and marketing proposals samples can also be used because with these templates and samples, you can get tons of ideas in your head exploding already. There are also tips and tricks mentioned to help you out.
3. Start writing your draft with the help of resources and references:
You can finally start by writing a good draft with all the knowledge you have gained from references and resources. Do not forget to include all parts of the proposal. this includes title, introduction, background, history, executive summary, etc.
4. Finalize your work and review it.
Complete your proposal and review it. Remember, it is never a bad idea to review your work one more time no matter how much you already have. Keep doing it till you are satisfied with it and so is your colleague that you have taken help from. Ensure that your content is coherent and only make appropriate changes to it not the unnecessary ones.
5. Submit to requesting organizations.
Once you have made the final changes, submit your proposal after printing it to the organizations and companies requesting for it. It is integral that the company's guidelines are followed from top to bottom. At last, try not to submit it after the deadline.
Sample Accounting Proposal Template with Beautiful Cover Page
Business Accounting Proposal Template
Cost Allocation Proposal Template
Download School Fundraising Accounting Proposal Template
Download Auditing Services Proposal Template
Download Accounting Services Proposal Template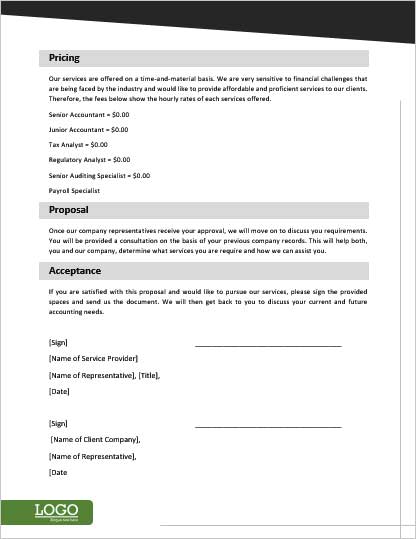 Download Accounting Professional Auditing Services RFP (Request for Proposal)