5+ Free Invitation Templates for the 4th of July in MS Word
With stars in the prestigious flag to starry illuminations in the sky, the day of freedom is just about to bless us. It all sounds like games, parties, vacations, BBQs, friends' get-togethers, and much more fun stuff.
With all of us geared for celebratory cookout parties and long-planned vacations, many of us would be aiming to have our closest friends and family on board. Because it's much more fun celebrating independence with friends than alone. We've all been doing this all our lives right?! But when it comes to party invitation cards, we all are used to depending on ready-made cards that we pick up from stationary stalls. However, those got a little boring, no?!
To make it more fun creating cards and sending them to friends we have a special post that guides you on how you can utilize these templates and come up with your cards. These cards are fun, go with your mood and personality, and can sometimes be a huge deal of fun. Let's do that, shall we?
Download
If you are having a good party or gathering on this happy and emotional occasion of Independence Day and want to make a beautiful invitation card to invite your friends, then this page is for you. On this page, you can download some beautiful and sophisticated invitation templates. These designs are designed in Microsoft Word so you can use them easily.
#1 – Independence Day Party Invitation
#2 – BBQ Party Invitation
#3 – Special Dinner Party Invitation Design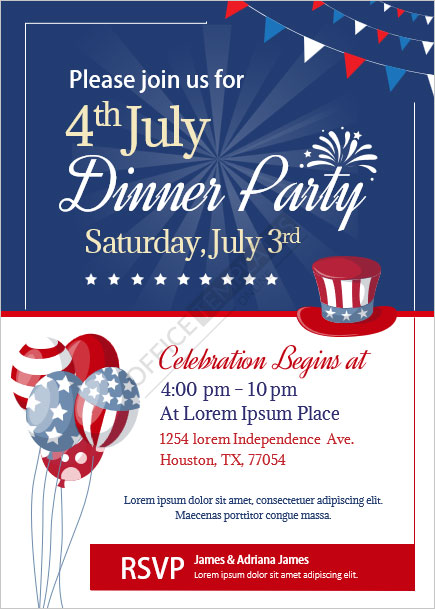 #4 – Friends Get Together Party Invitation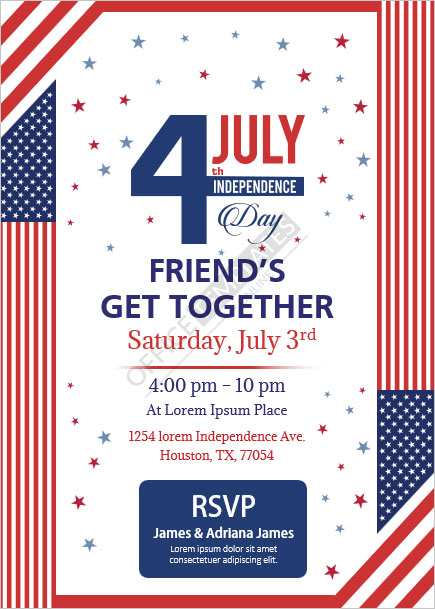 #5 – Pool Party Invitation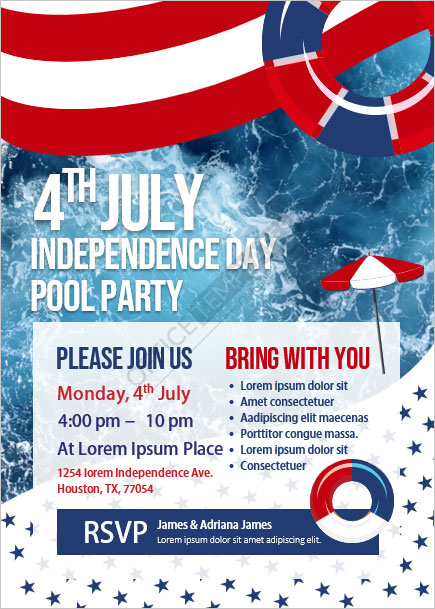 Importance of Independence Day party invitation cards:
You're done with picking the best-suited location for your BBQ-themed party, you know what company you wish to have, and you're also done with the activities you'd be having at the party. Whether you want late-night swim sessions, lawn karaoke, or outdoor games is all decided. However, there's this one part left: selecting a fun invitation card idea.
We believe it's all about including the right details in your card so that the guests know what they can expect for the event. Just like other invitation cards, there are some key things you cannot be missing while you're giving your ideas a final form:
The venue, menu, date, timings of the event
The kind of activities or particular features at the party
The type of event you're planning to host (whether this is an all-friends party or a public event)
A costume guide if you're aiming to go for a fancy-dress theme
You might also want to add the kind of food the guests will be served at the event so that people with particular food choices are clear
RSVP details
Catchy phrases you can add to make the card look fun:
Eat, drink, party, and be merry! The 4th of July is for us to celebrate. Join the Johns at their farmhouse!
Let's celebrate the vision of independence, sparklers, and lots of fun. We'll be waiting for you to grace our backyard BBQ party on the 4th of this July.
The land of the independent people! We're planning a 4th of July swim party at our residence.
Laughter and fun, games and pool jumps! Will you join us for the party?
Let us all get together to celebrate the sacrifices of those who thought our freedom was more significant than their lives!
Design ideas to make your 4th July invites the best they could be:
You can choose to design your cards in any of these ways:
All blue and directly in alignment with the 4th July theme.
Colored dark in BBQ hues
Keep it all black with fireworks in focus
Designed just like the American flag.