Generic Promissory and Thank You Note Templates
The business world is full of standard operating procedures and official documents that support these procedures. In a business entity, there are specific ways of meeting specified objectives. For every task, there is a specialized procedure that needs to be followed to make this task successful and legally suitable.
Many documents used in official businesses and institutions have a legal binding on the parties that are involved in the creation of the document. One such legalized official document is called a promissory note.
Table of Contents
What is a Promissory Note?
A promissory note is a specialized document that is a written undertaking or promise for the payment of a specified amount of money to a specific person or carrier of the document. The payment is made on the specified date of the promissory note or when demanded by the holder of the note.
More commonly a promissory note is a legal or financial instrument that includes one party called the issuer who makes the promise to pay a specified amount of money to the second party called the payee. The payment can be made on a stated fixed date in the future or whenever demanded by the payee. The document is enforceable by law and has legal repercussions if not fulfilled.
Promissory Note Template
Being a legal and financial instrument, all promissory notes have a specified format. But if you are to draft your own promissory note, you can use this promissory note template and create an instrument for your own purpose.
MS Word Version
PDF Version

Thank you note cards
There are many gestures in the world that make human interaction pleasurable and delightful. Expression of one?s feelings is a very important factor for developing long-term strong relationships with others. Whether you are with family members or friends or with co-workers, a little reflection of gratitude makes the others love you and respect you even more.
Use of Greeting Cards
There are various methods and ways through which you can make these gestures more attractive and presentable. The internet and smartphones have brought about a great revolution in the way we send greeting to anyone nowadays. In older days greeting cards and letters were considered to be the best communication tool with anyone living at a distance. Cards were of different themes and conveyed different messages on various occasions like:
Sorry
Thank you
Congratulations
Good luck
Best wishes
Happy holidays
And many more.
But today most of these greeting cards have been replaced by emails, e greetings, and even less effort is placed on messaging someone over the social network or the cell phone. But happiness and affection that one felt while physically receiving a greeting were far more than a digital message on an online platform.
For example thank you note cards are very small a gesture that you can give to some to convey your thanks. But although the thank you note cards are small the emotional sentiments that they carry are far more than a message sent on the internet or through applications on smart devices.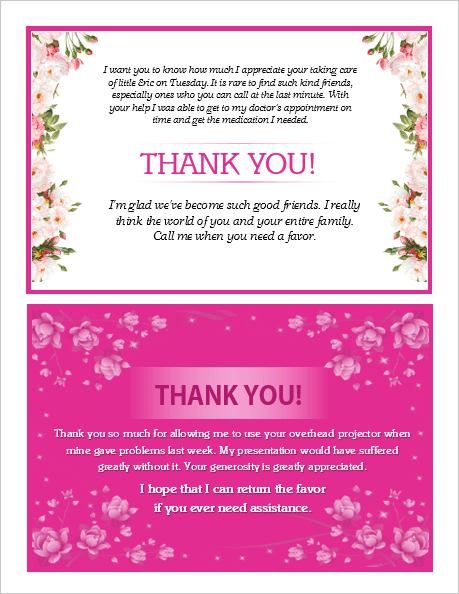 MS Word Version
PDF Version
These Promissory and Thank You Note Card templates are created using Microsoft Word with elegant layout and colors. You can edit these easily using any text editor.