Employee Vacation/Leave Request and PTO Forms
Employees who work throughout the year are entitled to vacation annually. This may be in the summers, winters or whenever it's appropriate for the organization and the employees together, or when the employee has a sufficient number of off days lined up.
Usually, an organization makes use of a rotation system in giving its employees vacations or off days so that the organization's productivity isn't affected or the workload isn't too much for other employees. It takes a lot of planning and employees are asked beforehand if they have any plans for this year.
All these templates have been created using MS Word and can be edited easily according to your needs.
Vacation Request Form Template
Paid Time-Off Request Form
Employee Time-off Request Form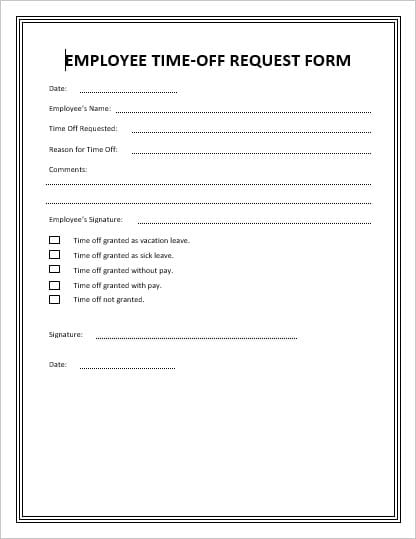 Download
Sometimes employees need sudden off days due to any problem or emergency that has arisen. They can just not show up for work but they can request their bosses and managers for either a day off (if the emergency isn't too serious) or a few days off.
For the latter, it is important that a formal application is written that clearly states the problem and the reason for the request of vacation or off days, with plausible evidence such as medical reports if one is seeking medical vacation. This authenticates the request and makes the approval process faster.
For a vacation request, it is vital that it should be typed (MS Word or any other text editor) instead of handwritten (since at times handwriting is not readable) keeping in mind the application/request format making it look professional, with your signature at the end. Don't forget to mention the dates and days on which you won't be coming to office.
For your convenience, we have created few vacation request form templates in different layouts that you can use to file a request for leaves to your company. You can also find a template below with Paid Time Off form as well a template for the Employee Time-off request form.