5 Professional Report Templates
All word processing software presents a large collection of word document templates and formats. These are very beneficial for new starters and even for professional who want to decrease their work load and desire to have an updated format for their documentation. Similar formats and templates of various types are also available on the internet. They are very useful for all kinds of people who are preparing documents and text files on regular basis. The templates provided can be a great source for professionals and students who tasked to write reports.
Report writing:
A report in literal terms may be any written or spoken description of an event or a thing that the writer or someone else has accounted through his observation, by hearing from someone, by doing it him or herself and carryout an investigation. It can be a simple account of a specific matter of discussion or topic given and is drafted in the form of a document in most cases. In modern times, thought report can be in the form of an audio reporting or video report as well.
There are different types of reports that are written in business entities, educational institutions and many other professional forums. A typical report should be well structured with a proper classification of sections, headings and sub headings. This way information can be clearly understood and locating it can also be easy. Based on all the criteria that is useful to create a report, we have created some sample templates for you that you can use as a ready-made solution for you. These templates include the following:
Business Report
Student Progress Report
Personnel Activity Report (PAR)
Company Progress Report
Project Status Report
You can find further information on all the above mentioned reports below along with their screen-shots and download Links.
Business Report
This report is created using Microsoft Word and laid out in a 3 columns layout. The far left part is an area where you can type the Title of your report and company name & address beneath it. You can use this 3 column layout to manipulate your report's contents quite nicely.
Company Progress Report on a Project
This report is very useful if you want to create your project's progress report. The top area is set to be used for company's basic information. The other major parts of this report are as below
About the Report
About this Project
Targets Achieved in Last 4 Weeks
Outputs of Project
Project Related Issues
Risk Analysis
What to Achieve in next 4 weeks
Page 1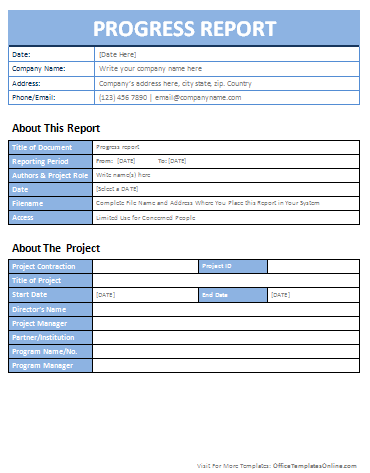 Page 2
Personnel Activity Report (PAR)
This is a great report template that can be used to examine the activity of an individual/employee for the whole month. Since this is created using Microsoft Excel, so all the needed calculations are already there.
Project Status Report
This two pages sample report is created using MS Word. First page comprises the Report Title, Company Name & Address, Project Name, Started Date, Client Name, Project Manager, Prepared By and a image for the graphical representation of the progress of project.
On the second page, you can input all the following details of project in a tabular form.
Snapshot of Project
Status Summary
Budget Overview
Page 1
Page 2
Student Progress Report
This template can be used for a School, College or any other educational institute where they want to present a progress report of a student. This is a simple yet professional report template which can save a lot of your time.