10 Professional Employee Report Templates
Employee report is generated in every organization on demand of top management on the monthly or quarterly basis. It contains various aspects to describe in the report considering the fact what are main requirements to generate this in that particular time span.
Significance:
Employee report helps a lot in monitoring employees closely by keeping an eye on their work ethics as well as personal behavior towards the surrounding. This report contributes to attaining the following results;
A detailed overview of an employee's contribution in achieving set goals within the department and for the overall organization.
Employee's motivation and dedication towards his work.
Employee's seriousness towards his job and career via his attendance and working hours in the organization.
It mentions the complete ratio of the set as compared to achieve tasks and goals within the team which help in annual appraisals as well.
Efficiency and effectiveness of an individual towards his surroundings.
Variables:
This report covers the following employee details depending upon the requirement;
Employee Profile:
In an employee profile, a complete profile of the employee is generated containing all the details from his personal details to academic and professional details along with all the required documents and certifications. Tenure of employment with all previous employers, family details (e.g. parents /spouse/children), current status, and designation in the current organization along with complete employment grading is maintained in the employee profile.
Employee Attendance Summaries:
In this report, complete attendance on a daily basis has been generated and maintained in the record containing his time in and time out as well in the organization. With the help of this report, he can easily be assessed with his job maturity and seriousness towards his career and this current job.
This helps in pointing out the potential resource for a particular project when dedicated and exceptional cases are preferred to carry forward the work with. This also works as a warning to all low performers are employees with poor attendance and to work better in the future.
Employee Payroll Summaries:
This report contains all the wage details of an employee along with his wage history in the previous organizations as well and also a track record of all the promotions/ demotions are kept in mind while drafting the report. This data helps top management to track all the increments and keep track of the salary bracket of all the employees company-wide.
Employee Leave Detail:
This report keeps track of all the leave quotas of an employee containing his casual, sick, or annual leave. Via this report managers can easily track down the absentees and leave the trend of an employee's life graph with that organization. And it also helps to keep count of availed as well as remaining leaves by the year-end in case of leave encashment. Managers plan to approve or reject leave applications by keeping in mind this report and forecasting the incoming project criticality.
Employee Productivity Graph:
In this report, each employee is monitored on the basis of all the projects and tasks allocated to them on a daily/monthly basis, and this report is directly linked with annual appraisals where a complete graph is drafted on basis of completion of work, productivity and innovation in the task, project completion date and percentage of completed tasks are measured and then presented in graphical manners to measure the curve line of each employee whether they meet expectations or below the line.
MS Word 30 Days Performance Appraisal Form
MS Word Performance Evaluation Form for Dental Receptionist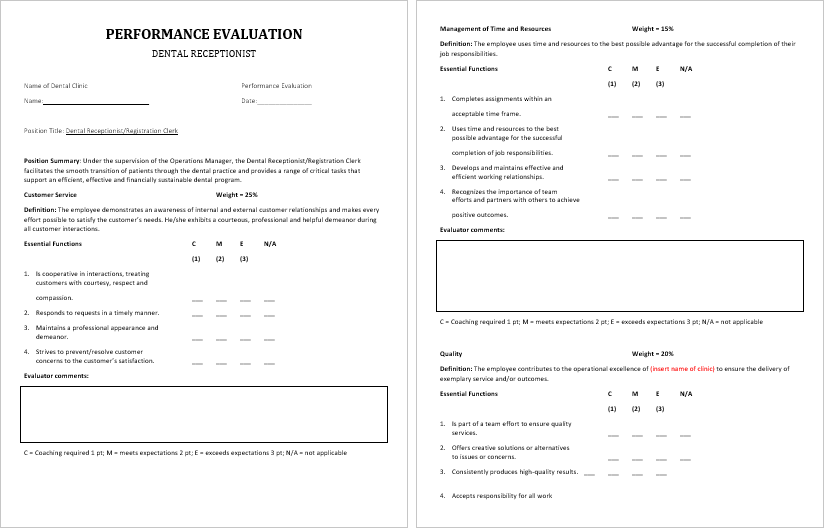 MS Excel Student/Employee Performance Evaluation
MS Excel Employee Performance Review
MS Word Management Performance Calendar
MS Word Performance Discussion Worksheet
Employee 3 Months Progress Report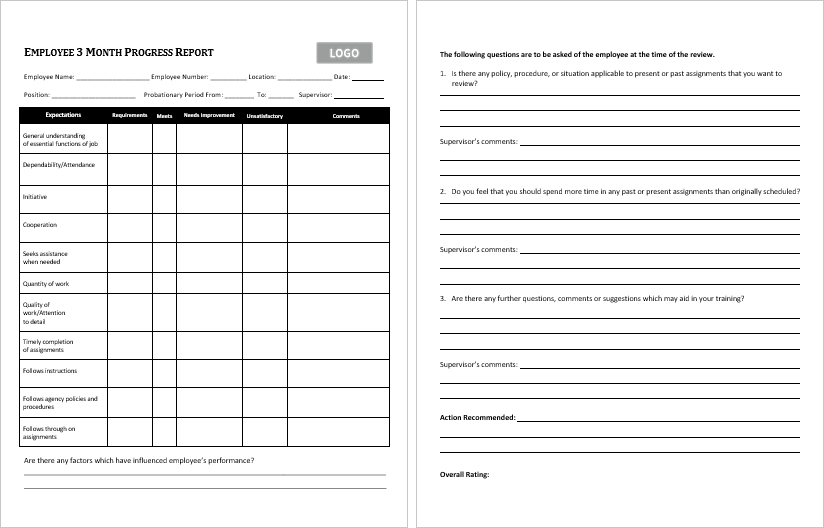 Professional Staff Evaluation Form
One Month Probationary Period Review
Employee Objectives Progress Report