MS Word Halloween Gift Certificate
Shops, stores, and businesses usually sell Halloween gift certificates which people buy and then gift to their friends and family members. These certificates are usually sold around Halloween time and people use them to buy Halloween accessories from that specific shop.
If you're a small enterprise and want to make your own, inexpensive Halloween gift certificate, you can easily do so by using this certificate template. This is created using Microsoft Word on a letter-size page. All you'll need to do is to download this, make appropriate modifications to add your offered gift value, date, company name, and description or terms of use. This will definitely make your life easier.
Here on this website, we have so many different types of templates that you will for sure find the one you want or have been looking for. Now you can easily get a Halloween gift certificates template that will help you create your own gift certificate.
You can make your own gift certificate in only five easy steps:
Download this template by using the link below
Add your gift value and date until it is valid
Add Your company, shop or store's contact details
Add your own terms and conditions or whatever you think is necessary and want to add or delete from the template
Print it out and make copies
And Viola! You're good to go. You can now use this gift certificate for your business be it big or small and the best thing about this template is that it is absolutely free to use.
A screenshot of this certificate can be found below along with a link to download it.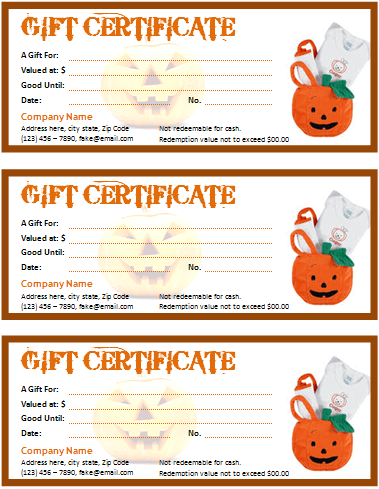 Special Fonts Used:
Bleeding Cowboys
Trebuchet MS
Calibri