Christmas Shopping and To-Do List Templates in MS Excel
Christmas comes annually and is generally celebrated by Christians for the birth of Jesus Christ on the 25th of December every year. Christmas is usually celebrated almost everywhere in the world and comes with various parties and the giving of presents.
The key to a fun and enjoyable Christmas is being organized and the key to being organized is to make lists of to-do things. Specifically Christmas lists. This usually involves a plethora of different events. You might be having a family dinner or might have to go out and meet people or even attend parties. Secondly, with Christmas, you need to give presents to friends and family members.
Therefore, you need a list that contains a shopping list which will include a list of food items for breakfast or for a party you're throwing or a list of presents you need to get. Generally for Christmas, you will need drinks and nibbles for friends and family who come to visit and if you're going for an elaborate Christmas celebration, you will need a list for a three-course meal for Christmas day breakfast, lunch, and dinner. You can also have a different variety of party food for example frozen and chilled foods items, snacks, sweet treats, bakery, and kids treat.
When it comes to giving gifts, you should make a list of all the people you need to give gifts to, arrange the people in different groups, for example, you could have toddlers, a kids group, and another group for teenagers, adults, in-laws, parents, and grandparents. This way, you won't leave anyone behind and you'll be more organized. You can shop for people in the same category all at once.
In order to make any list of the things mentioned above, we have tried to create different list templates that you can use to save your time. These ready-made templates are very easy to use. They are created using Microsoft Excel.
Christmas Gift List Template
This template is specifically designed to make a list of people and gifts you are planning to give them. Using different columns in this list, you can manage Recipient names, gift names, recipient ages, and your allocated budget.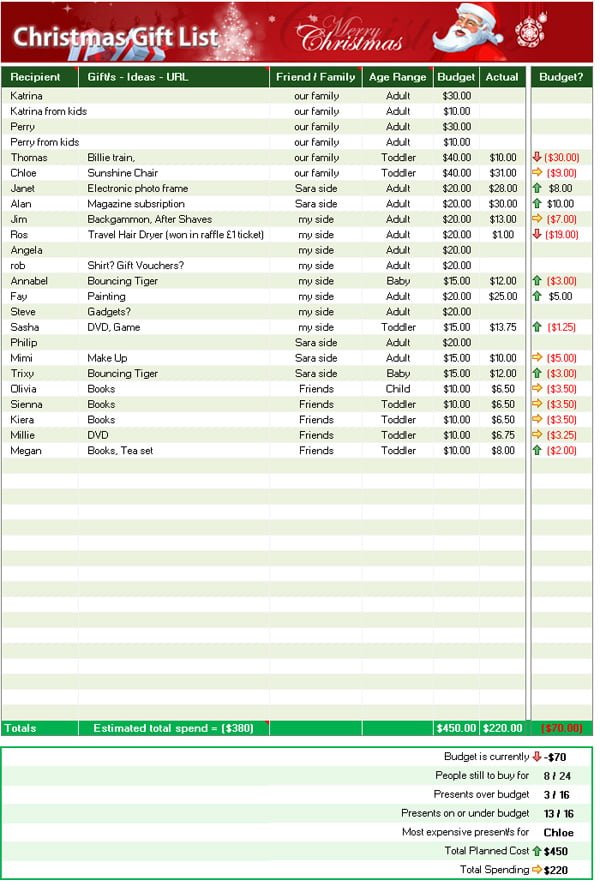 Xmas Food List Template
Using this template you can manage the food that you are going to serve to your friends or family on this big day. A big list of most of the commonly used fruits, vegetables, groceries, and meat is already part of this list template. All you have to do is to add quantity, unit type, and budget to compile your food list.
Christmas Baking/Cooking List
This list template will help you a lot if you are going to bake something on this upcoming Xmas. You can list out all the ingredients of your food recipe (most of them are already written there) along with their quantity or measurements to build your complete baking list.
Christmas Songs List
This songs list template consists of almost 1000 Xmas songs that can add more fun and hip-hop to your event or party. You can add your comments with any song along with its Genre, Composer, and Arranger.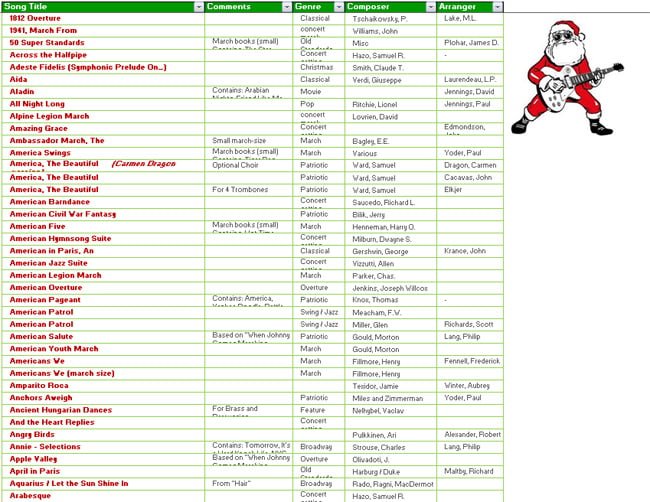 Who Gets What List Template
This Who Gets what list is a kind of gift list template. But using this list, you can manage all the people with a particular gift that you are planning to send them this Christmas. Simply list out all the people in the far left column and gifts on the top column. Then in a specific row to the name, add a quantity in the gift column. This simple list template will surely add some fun to play with it.
What Happens When List Template
This list template will help you to plan your events/things with respect to their dates. You can list down your specific actions, tasks, or things with dates and notes to keep them reminded.