Christmas card Template with Santa and Christmas Tree Art Work
The Occasion of Christmas:
Festivals and holidays are celebrated all over the world with great enthusiasm and fervor. There are different kinds and types of festivals in the world. they may be religious, geographic, demographic, ethnic, and many more. Every culture has its own way of celebrating and enjoying these festivals. One such festival that is very widely spread in the world is Christmas. This is a religious festival that is specific to Christians. However, most countries in the world celebrate this occasion. But every country has its own way and rituals that are practiced during these events.
Exchange of Greeting Cards:
One such activity is the exchange of Christmas Cards and greetings. Although the advancement of technology and scientific gadgets have very much reduced the sending and receiving of physical mail, the exchange of Christmas cards is still practiced in many parts of the world. The feeling of happiness that is felt when someone receives a physical greeting card is much more than a simple email greeting.
Christmas Card templates:
Although there are several kinds of printed Christmas greeting cards available in the market, most people prefer to send personalized greeting cards to show more effort and affection in the activity. For this purpose, they print their own cards. The Christmas card templates are available on the internet and various drafting software also have such samples.
All you need to do is:
Search for a Christmas Card template that is most appropriate
Make required changes
Personalize it with pictures and images
Print it
Send it.
Bring the holiday spirit to life with our beautifully designed Christmas Card Template in MS Word! This template features a warm and festive design, with a bold "Merry Christmas" greeting and intricate artwork of Santa, a flying deer, a Christmas tree, and holiday decorations complete with a chimney fire. Perfect for businesses or individuals looking to send out personalized holiday greetings to friends, family, and customers. Customize the template with your own message, print it, and spread the joy of the season!
Below is a screenshot of this Christmas Card Template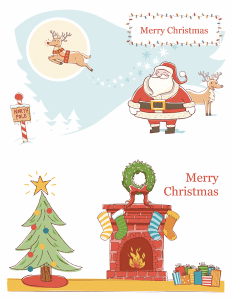 Click Here to download this Christmas Card Template
Why is it a good deed to send a Christmas card to friends?
Sending a Christmas card to friends is a wonderful way to show your care and appreciation for them. It is a simple yet meaningful gesture that can bring joy to someone's day. Receiving a personalized message in a festive card can brighten up someone's holiday season, especially if they live far away or have been feeling down. The act of sending a card also helps to strengthen the bond between friends and provides a sense of comfort and connection, even when physical distance is present.
In addition to spreading joy, sending a Christmas card can also be an opportunity to reflect on the past year and express gratitude for the people in our lives. It can be a time to reflect on the memories we've shared and the good times yet to come. A card can also serve as a keepsake, allowing the recipient to cherish the thought and effort put into the gesture for years to come.