5 Free Heart-touching Obituary/Funeral Memorial Card Templates in MS Word
Obituaries or memorial cards also referred to as Funeral cards or prayer cards are the tailored mementos or keepsakes that you are handed over to at funeral gatherings of a departed person. These are to act as keepsakes that are created to celebrate the deceased soul's love and keep him in other's memories.
How are memorial cards created?
Memorial cards are double-sized, tough, laminated cards that are not only distributed at funerals but are also provided to the attendants of a memorial service, a vigil, life celebration events, and so on. The purpose, however, is the same: to remember the ones that have left this world in our prayers and to reminisce their presence every time we see those cards. These are created by a funeral director or personally crafted by the lamented individual's close relatives.
One side of these double-leafed cards is designated for providing the deceased person's details such as his/her photo, name, Date-of-birth, Date-of-death, the cemetery where he/she is buried, parents' name/spouse's name, the family members left sorrowed behind, etc.
The second leaf of the memorial card contains expressions and wordings for the deceased that contains a considerate, careful note about a person's life, his achievements, his memories, and the legacy he has left behind. This might also be a poem or a collection of phrases that in a literary manner explains your love for the departed soul. Their final words, favorite quotation, the lyrics of their favorite song, or a verse or scripture from the holy book that they loved.
Download Obituary/Funeral Memorial Card Templates
Find below ready-to-use, print-ready Obituary, Funeral, and Memorial Card Templates created in Microsoft Word. Each of these cards is formatted with both Front-side and Back-side designs. These cards are designed with different sizes such as 4.25″ x 5.5″ and 3.95″ x 5.9″.
#1
In Loving Memory Of -Memorial Card Design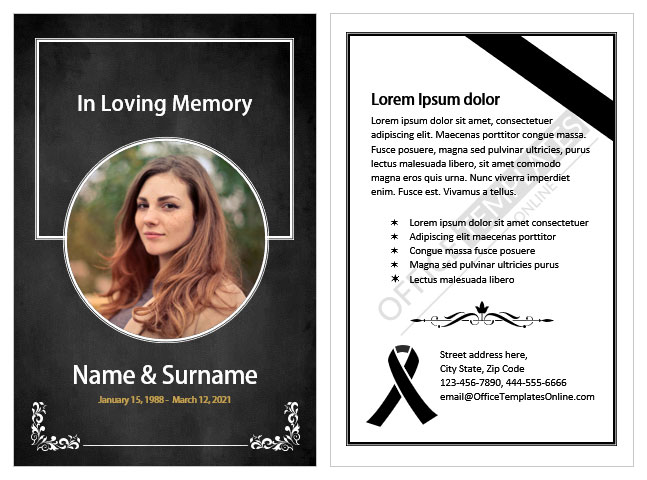 #2
Simple yet Elegant Funeral Card Template
#3
Funeral Invitation Card Format
#4
MS Word Obituary Memorial Card Design
#5
Horizontal Funeral Memorial Tribute Card with Photo
What words are appropriate for an obituary/memorial card?
Memorial cards tend to have religious or spiritual importance and need to be written in simple, sophisticated, and easy words. These were created inspired by prayer cards that were used as a catholic ritual.
A traditional obituary card can feature words like:
In the loving memory of my dear friend __ who was a soul worth remembering, a person worth cherishing. He has left behind a legacy we will forever keep in our minds and our hearts.
In your lives I may be gone, but in your memories will I stay and thrive forever and ever. My eyes cannot see anymore, by my heart can! My ear cannot hear anymore, but my soul can feel every word you utter!
Rest in Peace
You will be missed
What to avoid in an obituary/memorial card?
The font must not be too decorative, gaudy, or showy.
The design of the card must not be over-colorful, cluttered, or indecent
The details must not be overwhelming or unnecessary put
Personal details of the family need to be avoided (as these can be manipulated by scammers)
Negative comments or traits about the deceased person.
Obituaries contain the conventional vitality of helping loved ones keep the late soul in their prayers. In addition, these help genealogists track biological records of families and pursue lineages.
With all of such age-old traditions coming to an end, memorial cards are an excellent way of grieving the loss of loved ones and for keeping customs alive.