When asked by a layman what coupons are, he might simply refer to this one word that comes immediately to his mind, DISCOUNTS! Honestly, he isn't wrong!
Coupons are termed as discounts in simple, non-business terms and are one of the most famous business promotion measures taken by businesses around the world.
Coupons are promotional tools that can help you get a cash discount, offers, or special and unique services that stores offer for their special customers or for customers in general.
Do you remember those TV ads telling you to flip the cola caps to receive a Halloween discount, or those hoardings shouting "Avail our Big Black Friday Coupons", or a special Christmas holiday gift coupon inside your favorite chip's packs?
Download Discount Coupon Templates in Microsoft Word
On this page, you can download professionally designed Discount Coupon Card Templates, designed in Microsoft Word with vector and high-resolution graphics. These templates are designed at a print-page size of 2.5″ x 6″. Everything things, colors, images, shapes, etc are 100% editable.
#1 – Special Offer Discount Coupon Card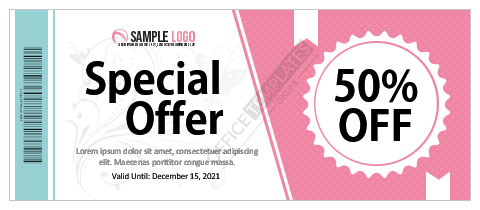 #2 – Weekend Sale Discount Voucher Format
#3 – XX% Off Voucher Card Template for Food Sale
#4 – Best Halloween Sale Discount Coupon Card Format

#5 – Black Friday Big Offer Discount Voucher Design
#6 – Awesome Coupon Template for Black Friday Sale
How does a coupon work?
Once you receive a coupon, you keep it with you, take it to the store to which it belongs, or post it to the manufacturer it is from. The store cashier who receives your coupon will take it from you, put it in the cash drawer, and will provide you cash or products worth the same amount. A coupon is directly equivalent to cash.
There are coupons that are to be mailed to the manufacturer in order to make you a part of a lucky draw or a special offer coming soon in the future. If you win, you will receive the services, presents, or gift hampers.
A few companies release special coupons on events like Christmas, new year, Black Friday, Halloween, and other occasions for the customers to enjoy special discount offers.
How does a voucher usually look like?
While there might be many forms and shapes of a coupon, in most cases it looks like a small, rectangular piece of cardboard or paper ticket.
A coupon would usually contain the amount of cash that you can redeem, or the name of the services that you can get in return for the coupon, such as free coffee, spa offer, haircare service, free meal, or a free burger!
In addition to that, it would contain the name of the company issuing the coupon, terms and conditions, a bar code, expiry date, and future services, etc.
Coupon VS Voucher?
We have talked about vouchers, and how to create them online in another blog, however, vouchers must not be confused with coupons. Vouchers are passed from the manufacturer or retailer to the customer directly whole coupons are distributed by the marketing or promotions team, mostly. Vouchers can be used multiple times while coupons can earn you one reward at a time.
Why do businesses release coupons?
Coupons are beneficial for businesses too. These help them gain a promotional advantage, increase the sales of their products, attract more customers, and improve the word-of-mouth related to the business without investing large sums of money. This is one of the techniques of "Gorilla Marketing" that brings more advantage in the least investment and creates a general mass awareness about the brand. Especially on specials festivals, such as Christmas, you would see impulsive buyers rush to their favorite brand stores with their coupons
Video Tutorial
Watch: How to Create Christmas Gift Certificate/Voucher in MS Word