6+ Free Letterhead Formats for any Company – [Editable & Printable]
For a business, no matter small or large, local or international, company letterhead is a useful document that is needed in several cases. A company letterhead is printed on a piece of paper that can be used for adding whatever information the business needs to add.
Today, when most of the corporate communication, correspondence, and contract documents are made through online or electronic means of communication, printed or "on-paper" letterheads are still needed. This is valid in cases where it is inevitable to send a few documents by hand, or in a hard form.
Download Templates
Download professionally designed company letterhead templates for Microsoft Word.
#1
#2
#3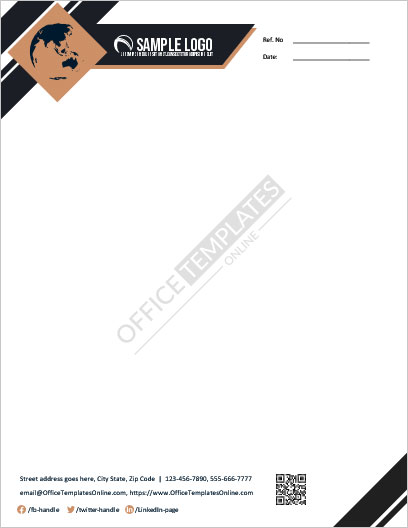 #4 – Special Law Firm Design
#5 – Best for a Logistic Firm
#6 – Best for Party or Event Planners
What is the importance of a letterhead?
A letterhead helps your business express its professional importance and legal identity. The organizations or individuals that receive documents from your business will be confirmed of the credibility of those documents through your letterhead's individuality and uniqueness. These documents might include correspondence, advertisements, proposals, letters, notices, and invoices, etc.
Can company letterheads be counterfeited?
While this might seem an easy job to the scammers, it actually is not. Wondering why? Because official letterheads are professionally designed and carefully created keeping even the very minor textual and graphic details in mind. It is also ensured that the letterhead in every possible way looks unique from all other business letterheads and is not similar to another. This is the reason why fraudulent people will have to face a hard time while giving this a try. No matter how exact of a copy they succeed in making, it will still keep numerous loopholes.
Things to keep in mind while creating a customized company letterhead?
It's not simply about coming up with a blank page that keeps a written description at the top or bottom, it's much more than that. Let us delve into how.
A company letterhead requires you to be very precise about the colors and combinations you choose for the letterhead text. Even when adding more colors seems expensive and showy, it is indeed not. The lesser colors there are, the better. Have difficulty choosing colors for your letterhead? Go for black! It never disappoints.
The importance of the quality of font to use cannot be stressed enough. Tilted, hard-to-read, and unprofessional fonts are a no-no!
Printing choices also need to be apt. The color of the paper, quality of the printing material, paper style, ink quality, and texture must all be suitable.
What must the company letterhead contain?
Having discussed the design considerations, we must discuss the elements too. The following elements must be there on company letterhead:
Company name
Company address
Contact details: email, fax, contact number, social media handles, etc.
The company logo
Company website URL
Company tagline or details of the nature of the work the company is involved in
The key is to stay as simple and straightforward as possible. Do not get carried away while doing this job. Remember that the actual purpose is to communicate the real meaning through the document, the letterhead reveals brand identity while the content does the real job.