6+ Hang Tag Formats Designed for MS Word – [Editable & Free ]
How many of us hate taking those hanging labels off of the new clothes we have just brought home? Well, turns out they are not there without a reason. Let us discover in detail what those labels are called and meant for:
What are hang tags?
Hang tags are commonly seen attached to brand new apparel pieces or clothing articles from merchandise in plastic, cloth, metal, or cardboard material. The biggest purpose that hang-tags tend to serve is to provide information about the price of the cloth it hangs with. In addition to the price, it might be containing vital information about the size, fabric details, merchandise name, washing precautions, etc. These might come in various sizes and shapes, though rectangular ones have to be the most common.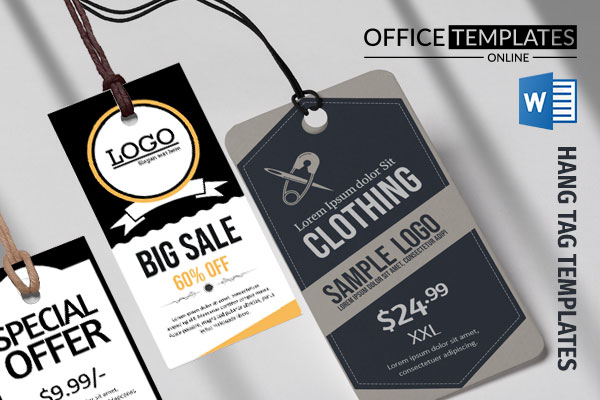 However, conveying the cost to the customer is not the only prime purpose. These tags have been identified as a source of building a brand individuality and become a source of awareness and information that the consumer might just need.
While customers are at a store with multiple merchandises, a nicely-cut, unique hang tag might be able to draw their attention in addition to the fabric and design itself.
Download Templates
Down below, you can find six nicely designed HangTag formats in Microsoft Word. Each of these is easily editable and printable using any regular printer.
#1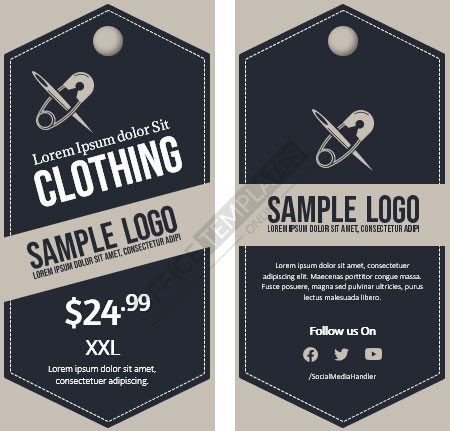 #2
#3
#4
#5
#6
What can you expect to find on a hangtag?
Brand name or logo of the merchandise: Seeing a cloth with a label that says it's from Zara or mango is what would make you stop yourself and probably buy the product. In the world of today, brands make all the difference.
A brief introduction about the company: To-the-point details that tell when the company was established, its basic aims, etc.
Contact details: Website, email, contact number, or address might be mentioned.
The country or place of the product manufacturing
Washing instruction: This is a highly crucial section. Whether one can machine-wash or hand-wash or tumble-dry is vital to know to keep the fabric in a good form for longer.
Fabric composition: The clothing raw material used can are usually mentioned.
A distinct product code/ UPC Code
An attractive graphic image: This might be optional for catching the consumers' attention.
In case you are a clothing line looking for ways to make your hang tags stand out, serve the purpose, and look charming enough, we have the help you need to help you add to your product's perceived worth through these tiny hole-drilled labels. The easy-to-use templates that we offer can be downloaded and customized per need.
It is entirely up to you to decide which color and material you want for your company's tags. While printing you can choose from silk lamination, matte finish, foiled, velvet coated, embossed, and glossy laminate.
How can hang tags be eco-friendly?
The best eco-friendly choice you can make is to create hang tags from recycled or biodegradable material and avoid polluting materials such as plastic to care for the environment. No matter what design and material you choose for your brand's tags, as long as customers find their required answers on them, they are serving their purpose right!