Free Medicine Log & Chart Templates to Track a Patient's Medication
Why does a patient or caregiver need a patient medication chart?
Medication dosage and administration might seem an easy thing to do for patients, healthcare professionals, and caregivers. However, it might also turn into complete havoc once these medicines are taken without recommendation, without the right precautions, at the wrong time of the day, with the wrong combination, or in the wrong amount. This is primarily why the dosage and administration of drugs are taken seriously by medical people all around the world.
One of the solutions to manage such mistakes and avoid serious consequences that doctors suggest is using a patient medication chart. It is a detailed yet brief list that looks more like a chart with various columns, rows, sections, and headings to make it easier to take the medication in the way that's suggested and without endangering one's or the patient's life.
Download Templates for Microsoft Word
On this page, you can download monthly, weekly, and daily medication logs and chart templates that are designed in MS Word. These are very easy to personalize and print using any regular printer.
#1 – Monthly Medication Record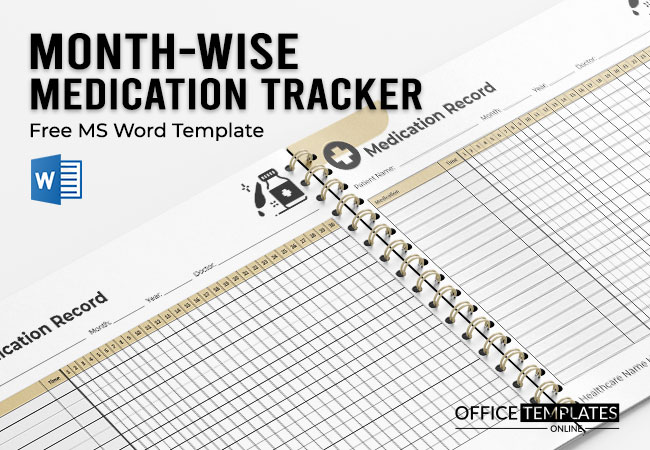 #2 – Daily Medication Chart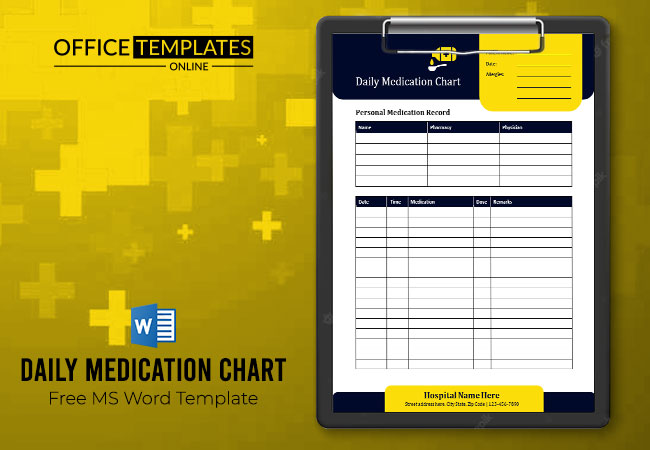 #3 – Patient Medication Log
#4 – Chart with Details
#5 – Weekly Log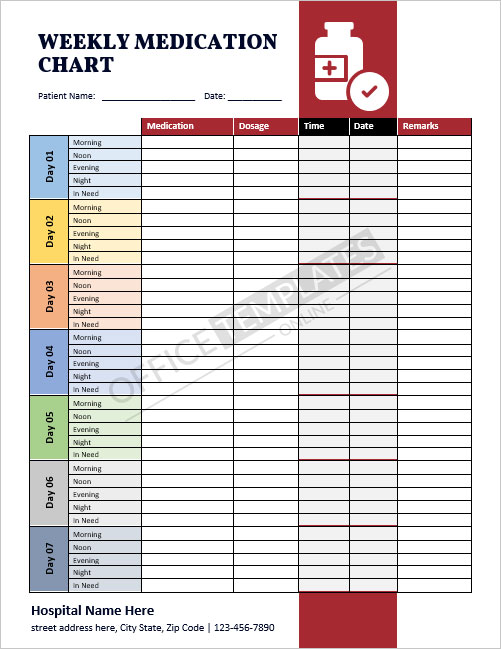 How do we make a non-complicated patient medication chart?
Proper management of medication schedule, amount, and dosage is very important for getting the best benefit out of the medicines you are taking and also for keeping one's health protected from the side effects. Resident hospitals, clinics, and caregiving homes are very likely to keep strict medication charts for the patients so that all healthcare givers can clearly understand which medicine to give at what time. Mismanagement on part of the nurses, paramedics, staff, doctors, and patients can be avoided in this way.
If you're interested in creating a patient medication chart by yourself for treating patients with short-term illnesses, chronic conditions, injuries, psychological challenges, or mental illnesses. A medication chart will contain the following columns in most cases, which you can add or subtract according to your need:
Names of days of the week
Name of the medicine
Name of the brand
Reason for administration/ disease or disorder name
Dosage
Number of times the medicine is to be taken or the frequency
Time at which the medicine is to be taken (morning, afternoon, evening, night)
Names of meals at which the medicine must be taken (empty stomach, breakfast, brunch, lunch, dinner)
Date when the medicine was started
Date when the medicine will be discontinued
Side effects or reactions (if any)
The combination that the medicine must be taken with (water, milk, etc.)
Special instructions for the caregivers (if any)
This chart can be made minimalistic or complicated according to the situation.
How widely are patient medication charts used nowadays?
We have talked about how crucial is it to keep a properly organized inventory of the intake of medicines. However, unfortunately, this is still one of the most ignored practices worldwide even when these are useful in making healthcare workers and patients understand how and when to take the medicine, and also let doctors understand the patient's history by taking a look. It is a need of the time to introduce these charts at hospitals and care centers so that mishaps and side effects can be avoided. These charts are easy-to-make and easy to manage yet earn the best benefits.
Helpful Video Tutorial
How to Design Doctor's Prescription Pad in Microsoft Word