Daily & Weekly MS Word Planner Templates
The lifestyles and living of the people in general has changed a lot over the past few years. Unlike the previous times, people remain busy with work, home, kids and many other aspects of life that needs much more effort and time now a days. Due to this increased rush and craziness of life, people have also become forgetful and absent minded. Now they mostly depend on different types of technologies to make their life easier and convenient. Gadgets with reminders, to do lists and planning calendars help them make their time schedules very effective and productive.
Technological advancements and progress have also made many innovations and improvements in the lifestyles of people. As the use of smart devices and laptops have become so common, planning your future calendars has become very easy. You can set up your appointments, meetings and events on the specific future dates and the device will remind you about them whenever you program it to.
Utilization:
There are also many types of physical planning tools and documents also available in the market. They can be used by people from different walks of life including the following:
Students can use the such templates to schedule their exam dates, project deadlines and other educational events
Businessmen and other professionals use them to make a schedule of their meetings, appointments, due dates and shipment dates e.t.c.
Any person even a housewife can use a planner document to plan their daily or weekly activities and remind them of important events.
We have created a couple of rapidly used planner templates in our daily life, that are, Daily and Weekly planners. These templates are created using Microsoft Word so that you can easily edit them according to your needs. You can also print it on a regular paper to use for yourself.
Find below the screenshots and download links to view and download these templates.
Daily/Hourly Planner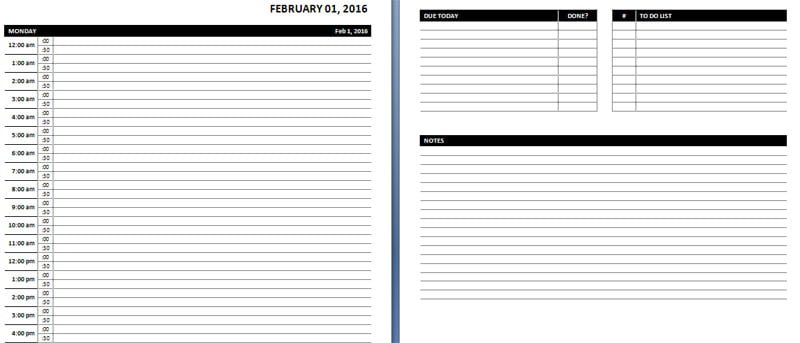 Weekly Planner
Weekly Meal Planner
This template is specially designed to maintain your health with regards to your diet. You can use this planner to schedule and track back your diet you are going to take in your breakfast, lunch, dinner and anything other than that throughout the week. This meal planner is also created  using Microsoft Word which makes it very easy to modify and print according to your needs.