Car for sale Flyer Templates for MS Word
Any car holder will know that buying and selling a car can be a very difficult task. It requires you to make a lot of efforts and there may be a lot of running around involved.
Reasons for selling your car:
An individual may want to sell his or her car due to several reasons. These may include the following:
The desire to buy a new car with an upgraded model and better condition
The existing car is too small or too large
The existing car is damaged and maintenance to high
The existing car completed its useful life and is too old
You need the extra money to spend somewhere else
You do not need a car anymore
And many more.
Methods of Advertising Car sale:
When you want to sell your car there are different mediums of car sale available. Some of these promotional sources include the following:
You can advertise your car sale in the local newspaper
You can put it up for sale at the local dealership
You can sell your car through various automobile sale applications available on android or other smart operating systems
You can advertise on various websites
You can make small advertising announcements on local radio
You can use social media marketing techniques like spreading information on Facebook and Twitter
You can hand out a car sale flyer in your near vicinity. The car sale flyer can also be pasted and displayed on various notice boards and shops for better outreach.
These professionally designed flyer templates below have been created using MS Word. All the design work is done in a professional way using vector graphics that make these templates very print-friendly. These templates have been created in a way to makes it very easy for you to modify and add your car's pictures easily. All the information is editable you can do it easily, but yet, if you need any assistance regarding modifying these flyers, you can drop us a message by going to the Contact Us page, linked at the bottom of the website.
---
Template # 1
Car for Sale Flyer Template in Black & Red Color Scheme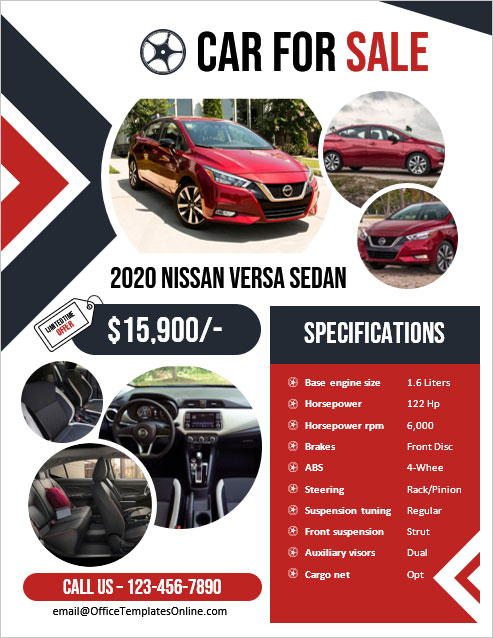 ---
Video:
Watch how to modify or create this Car for Sale Flyer Template in Microsoft Word.
Source: https://youtu.be/q7pIo0em8M0
---
---

Template # 2
MS Word Car for Sale Flyer Template