General Ledger MS Word Template
Any organization or individual that is engaged in doing business operations cannot deny the importance of accounting and finance in its successful running. For the systematic and smooth running of a business entity, these functions are or utmost importance. Without them there can be no accountability of the monetary transactions and the cash going in and out of the business. Whether your business is large or small, accounting is a must for all. And whenever you are doing accounting for a business there has to be the presence of a General Ledger. This is a necessary component of all accounting operations.
What is a General Ledger?
A general ledger is a document that is used to record all the financial transactions taking place in an organization. This is a perpetual document and is maintained in a company throughout its life. The general ledger is a basic document that is used to get the information required to formulate the financial statements of a company like the balance sheet and income statement. The ledger may include account maintenance for elements like:
Assets
Liabilities
Revenues
Expenses
Owner's equity
If you are a small business entity and you are looking for a method to track and record your financial transactions, then using a ledger is your best possible solution. The utilization of a general ledger template can solve all your accounting issues. This general ledger template will help you keep your finances right on track and provide basis for making financial statements.
Have a look at the screen-shot below to see how this template looks like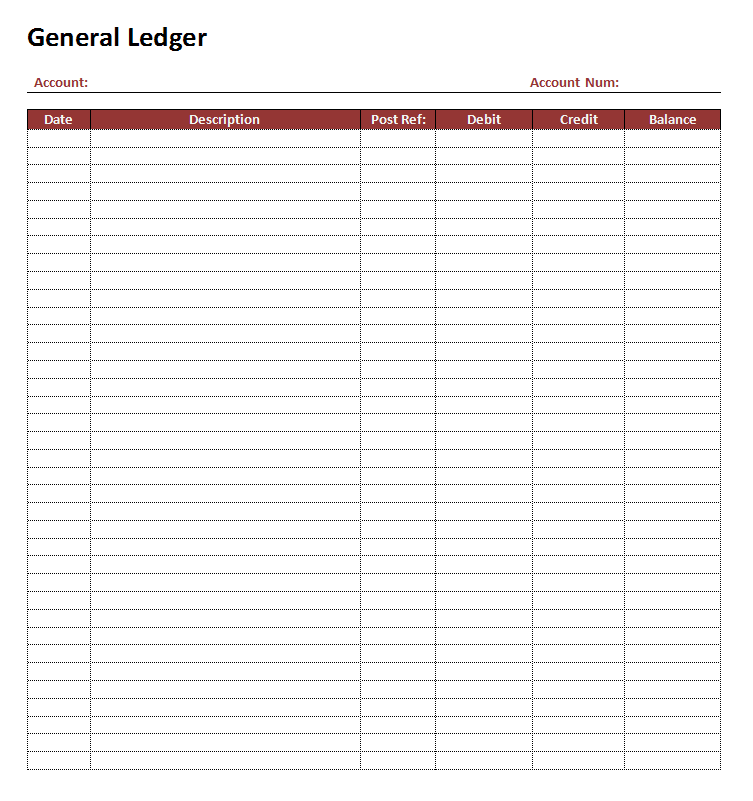 Use the link below to download this Ledger Template to your Computer
General Ledger Template with Highlighted Item Column
General Ledger Template with Post Reference
Account Ledger Template with Checks Reference
General Ledger Template with Client, Payee and Withdrawal Information