5+ Free Printable Product Label Templates for MS Word
One of the most important things about product packaging and identification has to be the labels it shows. It shows details about the products that are important for the customers to identify and remember. It can also be recognized as an effective and modern means of communication between the brand and the consumer/customer.
What outlook do product labels have?
Product labels are usually a combination of written information that can be distinguished from the visual as well as written information provided as a part of the product packaging. The packaging consists of the brand name, brand logo, color scheme, and the material (such as wood, plastic, or metal) used for the making of the product's packaging.
Download Product Labels
If you are looking for nicely designed Product Label templates, then you have come to the right page. On this page, you can download at least 5 beautifully laid out formats to create labels for Food Jars, Water bottles, Cosmetics/wax jars, medicine/pills bottles, and bag labels. All of these are designed with vector and high-quality graphics and embedded fonts.
#1 – Cosmetics/Wax Jar Label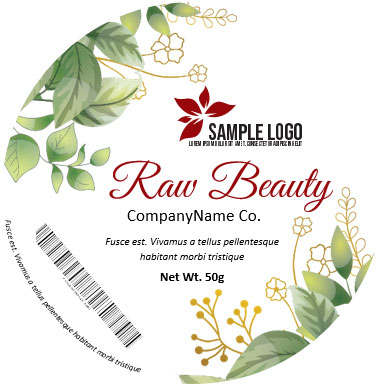 #2 – Water Bottle (16 oz, 500ml) Label
#3 – Medicine/Supplement Jar Label
#4 – Food Jar Label Format

#5 – Coffee Bag Label
What information must one expect to find in the product labeling?
Once you pick up a processed food cane you are very likely to immediately turn the pack and quickly go through the bolded details provided. You might want to skim and scan through the information to learn things that you've been meaning to learn such as the ingredients (most importantly), the expiry date as well as the manufacturing date, and the allergens present.
Some brands are very careful with their product labeling and thus provide explicit details about the product. These might include the processing mechanism, complete information on if the ingredients are safe to use for every type of consumer, exact amounts of the ingredients, and if these are halal or not.
Some details that are mandatory for the brands to show in product labeling?
The list of ingredients
Health and safety hazards such as allergic reactions for certain consumer
Recycling information
Information on how to dispose of the product, etc.
Why is it vital to focus on the product label?
There are various reasons why product labeling cannot be ignored, such as:
Helps establish a unique identity and recognition for the brand
Helps categorize various products based on identities such as flavor, product type, etc.
Helps meet essential requirements such as expiry date, safety instructions, calorific values, etc.
When are new brands expected to need brand label templates?
When entering into the marketing field one might like to start from scratch and get new product labels designed, however, why face the fret when we have the best possible solution for you in such a situation. We have dozens of ready-to-customize product labels. These can be changed according to one's needs and requirements. You can add in the information related to your product that you think is essential. The size, color scheme, and font can be tailored.
As hard as it might sound but the process of product introduction, taking care of the product packaging, and labeling is no more specific people's job. Just like we can plan to become entrepreneurs with just the right effort we can also tend to curate and bring around the best products with impressive packaging and notable labeling. It is easier than before!